Bob Ross Instructor and Workshops in Hampshire - masterpiece | Welcome to masterpiece
Welcome to masterpiece
I hold my one-day Bob Ross workshops in Fleet (N.E Hampshire, UK). I will teach you how to paint in oils using the Bob Ross wet on wet technique. Anyone can do it, and yes, I mean anyone.
"The Joy of Painting" is Bob's TV programme on Discovery Real Time which is on each weekday morning at 9am, showing the world that with a bit of tuition anyone and everyone who wants to paint, can.
I hold my one-day workshops in my studio, where I can take up to five students. I supply all the necessary equipment, paint, brushes, gentle music and cups of tea, to give you a relaxing day to paint your masterpiece. And everyone goes home with a finished painting. Many people who come are complete novices and haven't touched a paint brush in years (apart from painting the skirting boards). They go home, skipping down the road with a smile and their masterpieces tucked under their arm, ready to amaze family and friends.
For me, the real joy of painting is watching the smiles on students' faces as they look at their finished painting, knowing they have just created something to be proud of. The emphasis of the day is very much on the JOY of painting, a day you can really relax and enjoy, with no pressure. You don't have to be able to draw, you just have to have the wish to paint.
Come on in to my web site where you can find out the dates and subjects of the next workshops, get some tips and if you've been to one of my workshops, you can tell me what you enjoyed most from the experience.
Workshop Vouchers are available if you are on the lookout for a great Christmas or birthday present that's a bit different.
I hope you enjoy the web site and I hope to see you at one of my workshops.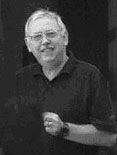 Kim Phillips CRI. CRFI.
Certified Bob Ross Instructor in Landscape/Seascape and Florals

Upcoming Workshop
various
Thursday 24th December 2020
Spaces Available
Newsletter
My newsletter details upcoming workshops, latest news and feedback.